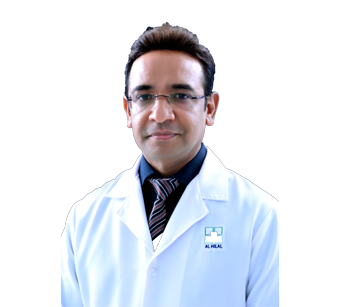 DR HAMDULLAH THANGAL
Opthalmology
Ophthalmology
MBBS, DO Ophthalmology
14 years of experience
Manama (Bahrain)
About DR HAMDULLAH THANGAL
Dr Hamdullah Thangal is a dedicated Specialist Ophthalmologist with more than 12 years of professional experience under his belt. He has trained and worked in a number of hospitals prior to joining Al Hilal, which has given him the expertise to handle a number of delicate procedures skilfully. He is an expert in the treatment of problems associated with the cornea, glaucoma and cataract. He is also very skilled in treating delicate cases associated with ocular trauma. Dr Hamdullah believes in keeping his knowledge base updated and attends conferences and CMEs regularly.
Excellence & Experience
Area of excellence
Cornea
Ocular Trauma
Glaucoma
Cataract
Level of Experience
More than 12 years of experience from the below-mentioned hospitals:
Cochin Hospital, Kerala, India
Fathima Hospital & Research Centre, Cochin, Kerala, India
Silverline Hospital, Cochin, Kerala, India
Awards & Academics
Academics Details
MBBS - Trivandrum Medical College
DO Ophthalmology - JIPMER Pondicherry
Out Patient Timings
The outpatient timings at Badr Al Samaa Hospitals have been planned in such a way that your choice of doctor is available whenever you are free.
Sunday
9:30 AM - 12:30 PM
Manama - Bahrain
4:30 PM - 9:30 PM
Manama - Bahrain
Monday
9:30 AM - 12:30 PM
Manama - Bahrain
4:30 PM - 9:30 PM
Manama - Bahrain
Tuesday
9:30 AM - 12:30 PM
Manama - Bahrain
4:30 PM - 9:30 PM
Manama - Bahrain
Wednesday
9:30 AM - 12:30 PM
Manama - Bahrain
4:30 PM - 9:30 PM
Manama - Bahrain
Thursday
9:30 AM - 12:30 PM
Manama - Bahrain
4:30 PM - 9:30 PM
Manama - Bahrain
Friday
Saturday
9:30 AM - 12:30 PM
Manama - Bahrain
4:30 PM - 9:30 PM
Manama - Bahrain